At the Marion Junior High School Club Fair Thursday afternoon, waves of students make their way to the school's lobby. There are booths set up around the area, each with a table and display boards promoting one of the clubs the school offers. There are tables for everything from Student Council and Robotics Club to Quiz Bowl and Chess Club.
At one table, a large poster advertises "El Club de Espanol" – the Spanish Club. Four ninth-graders -- Kylie Percell, Maylei Cartwright, Lilah Boykins, and Aaniyah Vaughn sit at the table, bubbling with enthusiasm, pitching the benefits of their club as throngs of fellow students pass by.
"It's fun," one of them says. "It's exciting," says another.
The descriptions go on, in rapid-fire style: "We get to try new foods." "We made an 'ofrenda' for Day of the Dead." "We get to sing songs." "It's way more fun than French Club."
Some of the teens passing by stop to hear more. A few stop to sign a clipboard to take the next step to become involved with the club.
It's all part of the school's annual Club Fair. Events were held at both the seventh-grade building and the 8-9 building. For Principal James Scott, it's a way for students to learn more about how they can get the most out of their education.
"I love being able to offer these clubs for students," he said. "And it's great to see so many clubs represented this year. We know from research that achievement improves when students are able to participate in extracurricular activities. Whether it's Spanish Club, or Yearbook, or Drama Club, these activities reinforce what we are teaching in the classrooms -- giving kids a chance to learn values like teamwork, responsibility, and diversity. These clubs help build school culture and a sense of community."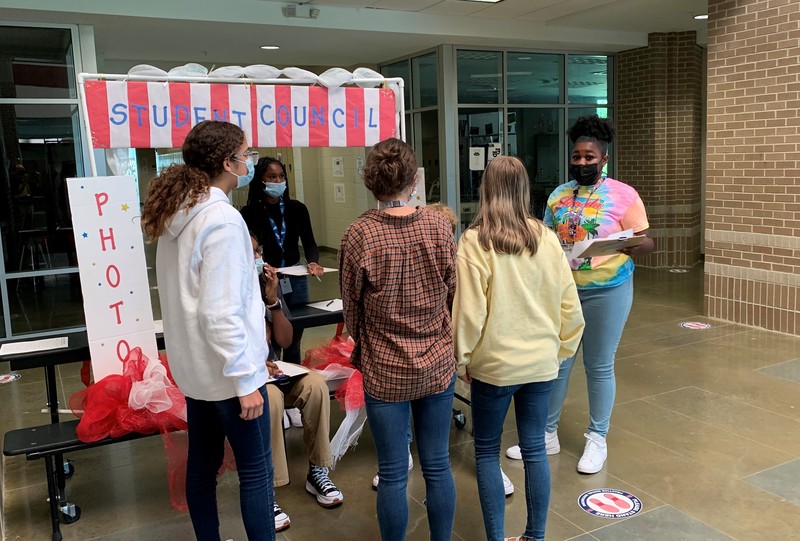 For ninth-grader Bradley Tolleson, the Club Fair is a great chance to recruit new members for his club – the Quiz Bowl team. Last year, the team placed fifth in the region, but with some new blood, he is hoping they can improve upon that finish.
"We have to get more people," he said. "Last year we had a small team, but most of them moved on to high school. I'm actually the only member left from last year's team. We're hoping to get more members so we can go to trials and compete. We're looking for anyone with random knowledge about all kinds of assorted stuff."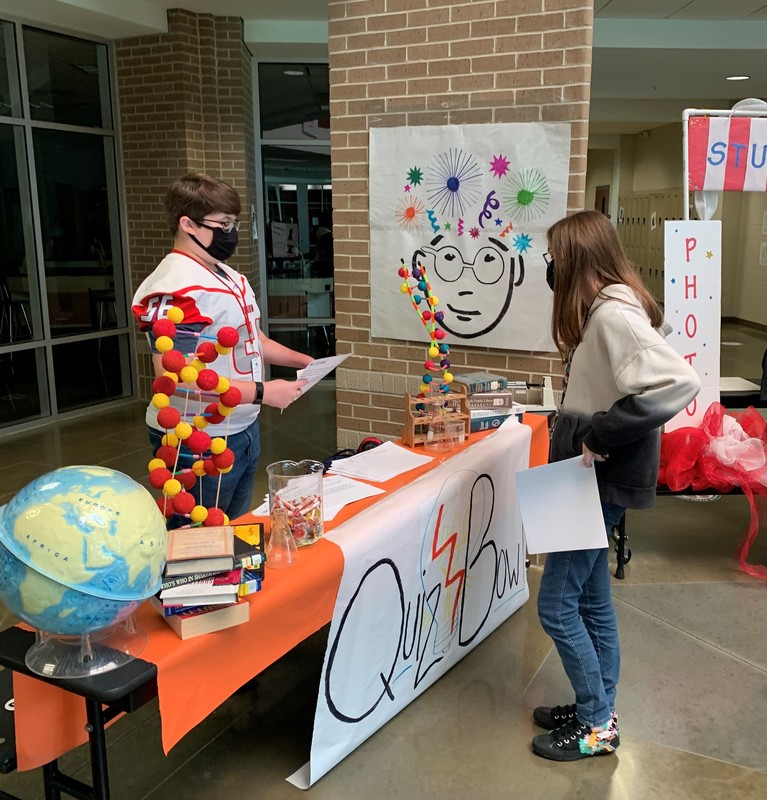 Elsewhere, ninth-grader Victoria Helms stands in front of a table, eagerly extolling the virtues of her club -- "F.O.R. Club" – for anyone close enough to hear. "F.O.R." stands for "Friends of Rachel," and the club promotes a national mission called "Rachel's Challenge."
"Rachel's Challenge was started to honor a girl named Rachel, who was one of the students killed in the Columbine school shooting," Helms said. "She made it her personal mission to be nice to everyone she met and just spread kindness. So we help out teachers, we help out custodians. We just try to do whatever we can to spread kindness throughout the school. If a student is bullied, we are one of the first groups they come to."
One of the students looking to join a club is seventh-grader Alexia Thornton. She did her homework before the event, and as soon as she arrives, she knows what she is interested in.
"I'm looking to get involved with Beta Club," she said. "I want to do some community service. I like being able to help people, whether it's providing backpacks, belts, clothing, or whatever it is people need."
Being involved in clubs, Thornton said, is a way for students to enrich their education.
"You don't get to do anything out in the world with regular classes," she said. "With clubs, you get to be out there. You get to experiment. You get to experience new things. You get to see the people in the community."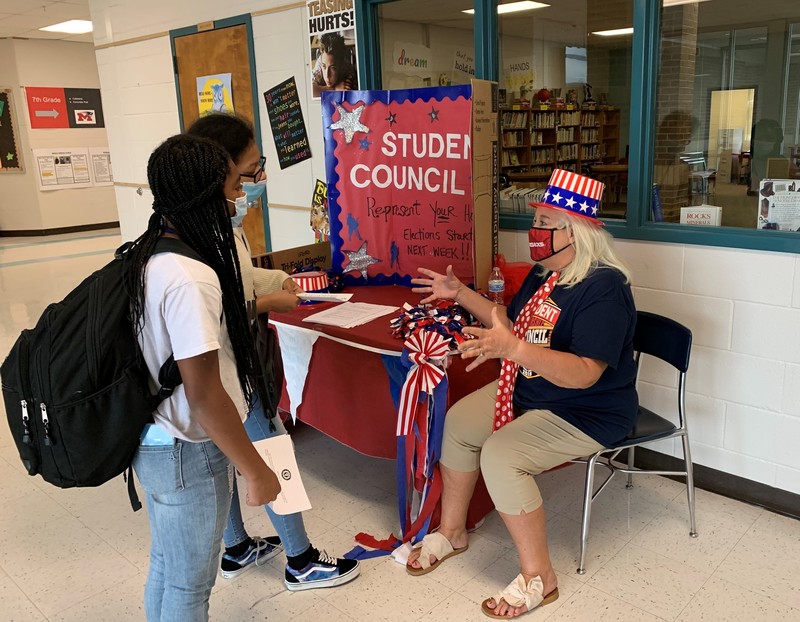 The full list of clubs represented included Art Club, Beta Club, Chess Club, Drama Club, F.O.R. Club, National Junior Honor Society, Spanish Club, Student Council, Quiz Bowl, and Yearbook. With so many activities, Scott said one of the challenges will be finding a way to create meeting times for everybody.
"Our commitment at Marion Schools is to provide a comprehensive education for our students," Scott said. "Academic growth is important, but so is social growth. So is the ability to think critically and make good decisions. Clubs like these help students learn those skills that they will need when they enter the world. Every student is different, with different talents and different interests. That's why it's important to have a wide array of clubs like these. There's an activity for everyone."