Students in the Marion School District may be on Fall Break until October 11, but that doesn't mean work has stopped in the schools. District work crews are taking advantage of the lull in student activity to complete essential campus maintenance work.
Some of the projects on tap for last week and this week include preventative maintenance on heating/AC units, painting in classrooms, carpet cleaning and repairs, concrete work, bleacher installation in the volleyball gym, window shade installations, canopy installation for the outdoor classroom at Marion High School, parking lot sealing and striping, and more.
Generally, these are projects that can only be done when school is out for the summer and students are away. But with the district's new hybrid calendar, the two-week Fall Break provides an ideal time to tackle much-needed projects.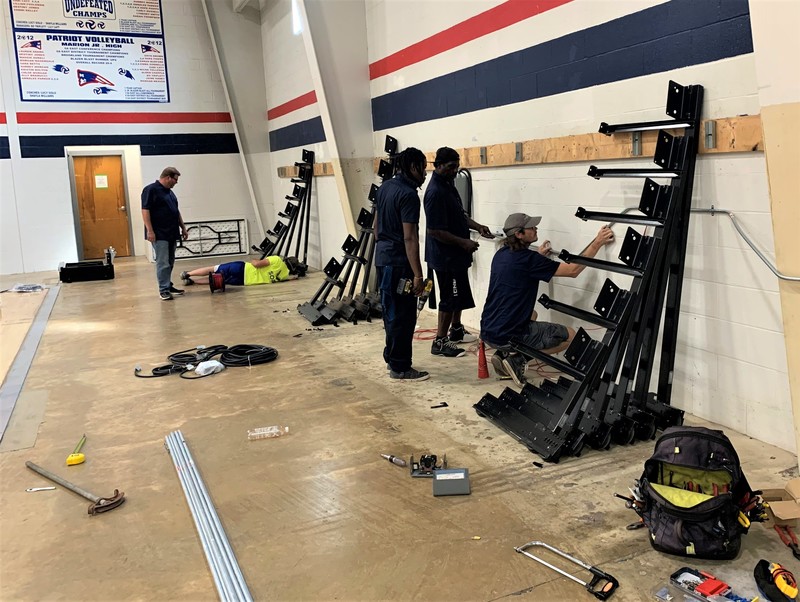 "This is just another great benefit to the hybrid calendar," said Hugh Inman, Marion deputy superintendent. "Obviously, Fall Break is a great opportunity for our students and teachers to rest and rejuvenate. But it also gives us a chance to rejuvenate our school campuses. Without this opportunity, some of these projects would end up getting put off until next summer. Instead, our students will be returning from break to spruced-up buildings."
MSD shifted to the hybrid calendar for the 2021-22 school year. Under the new calendar, the school year is spread out, trimming time for summer vacation and adding two-week rejuvenation breaks in the fall, winter, and spring. The number of days of instruction will remain unchanged at 178.
The breaks after every nine weeks provide students the opportunity to absorb what they have learned and to take time to rest and renew. The hybrid calendar will also ease what educators call the "summer slide." According to research, students often lose up to 40 percent of what they have learned during the previous year during extended summer breaks. That number can be reduced by as much as 22 percent when students are not exposed to a long summer vacation.
"The response we've gotten to our new calendar this year has been incredibly positive," Inman said. "Our students got a head start on almost every other district in the state. And now they get a long, well-deserved break. It gives our teachers a chance to re-charge, and our families a chance to relax and revitalize – I think several families were headed to the beach this week."
"This is a win-win for everyone involved," Inman continued. "It benefits our students' academic progress; it helps our teachers stay refreshed and effective; it gives our maintenance team a great opportunity to make sure our facilities remain in top shape. I suspect we will soon see other districts following our lead in adopting this calendar."