One of the fastest-growing sports leagues in the nation is esports, and the Marion School District is committed to keeping pace in that field.
Esports is a form of interscholastic competition featuring video games. Marion's esports team plays two games, League of Legends and Rocket League, in league action. The League of Legends team is 3-1 so far this fall, and while the Rocket League team is winless, "we have a lot of potential," said Marion esports coach Sam Carver. There are two seasons per school year, spanning the fall and spring semesters.
Thirteen Marion students participate in esports, eight on League of Legends and five on Rocket League.
The esports program was founded in 2019 by Marion District Technology coordinator, Sam Uddin. When the program launched, Marion was the only school in eastern Arkansas to have a dedicated esports lab, which consists of 30 high-performance, personal gaming computers. Each station also includes headphones and controllers for Rocket League players.
"Sam pitched the idea and got the ball rolling and got the lab built and all that," said Carver. "He knew that I knew video games and had a passion for it and we've had some fun."
For the school, the esports team is about creating diverse extracurricular options for students.
"It is imperative for us to ensure that we are constantly creating opportunities for all of our students to find their own niche, and to be able to excel," said Paul Johnson, MHS principal. "Esports gives us another great way to do this. It's a great outlet for students who might not be as interested in some of the more traditional extracurricular activities. And the skills our kids are learning through the esports program -- things like teamwork and creative thinking -- are skills they will use throughout life."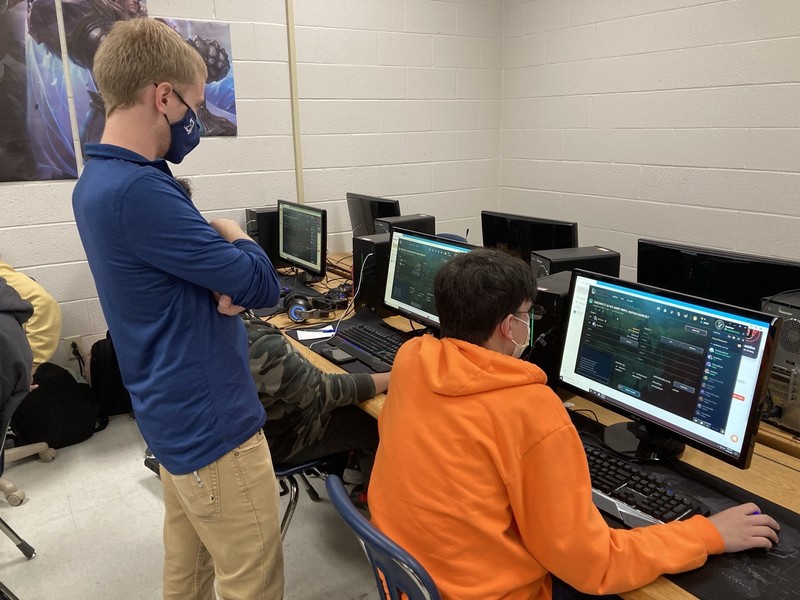 With interest in the program growing, the team has been steadily improving. The Patriots have already advanced to the quarterfinals of state competition twice.
"We have a lot of juniors this year so that's been really exciting," said Carver. "The fun part has been seeing players grow and improve over time."
The Arkansas Activities Association tells schools their schedules every three weeks in an attempt to create evenly matched contests. Rogers High School is the defending state champion of Rocket League while Fort Smith Southside earned the League of Legends title a season ago.
League of Legends is a multiplayer battle arena game where players strategize with teammates to complete a set of objectives before the opposing team. Rocket League mimics soccer where players try to score goals with a ball, but players control a car rather than a person.
A League of Legends match features five players at a time with three subs "which is perfect for us right now with eight players," said Carver. "Our goal is to have two League of Legends teams."
A League of Legends match starts by banning five players and picking the best of the remaining champions. Teams ban three champions; they then pick three champions before banning the last two champions for the other side.
"We look up the opposing team's accounts and their better players and if they're particularly good with one player or it could be an annoying champion to play against, we ban them for that match," said Carver. "They're doing the same to us. It's important for us if we have a one-trick pony (someone reliant on one champion) to have a pocket pick ready because they're probably going to ban your preferred champion."
Marion plays League of Legends at 4 p.m. on Tuesdays while Rocket League is scheduled for 4 p.m. Thursdays.
"We're excited and proud of our esports team's achievements this year and in previous seasons," said Johnston. "We have exceptionally hard-working students and coaches who are committed to crafting us into one of the top esports programs in the whole state."