Fourth- through eighth-grade students at Marion Preparatory Academy have been busy this fall making senior citizens and veterans smile.
Marion students celebrated Veterans Day in November by serving breakfast, signing cards, and gifting balloons to local veterans as a thank-you for their brave service.
Last week, Hailie Bartoush, Silas Jordan, Zaylen McChristian, and Ameer Eason volunteered to make gift bags, and take flowers to Willowbend rehabilitation healthcare center in Marion.
"I looked at our students playing bingo, and it was nice because you can see them truly engaged," said Patrice Jones, campus supervisor for the K-8 Marion Preparatory Academy. "They were willing to go in and help. When they got their flowers, they lit up like a Christmas tree."
The Marion Preparatory Academy plans to do three projects per semester, specializing in fine arts, international studies, and community service.
Students created 120 gift bags for 105 residents at Willowbend, and they catered to each resident's diet in regards to diabetes and other considerations. Local businesses donated vases to house flowers that Walmart donated for the students gave to residents.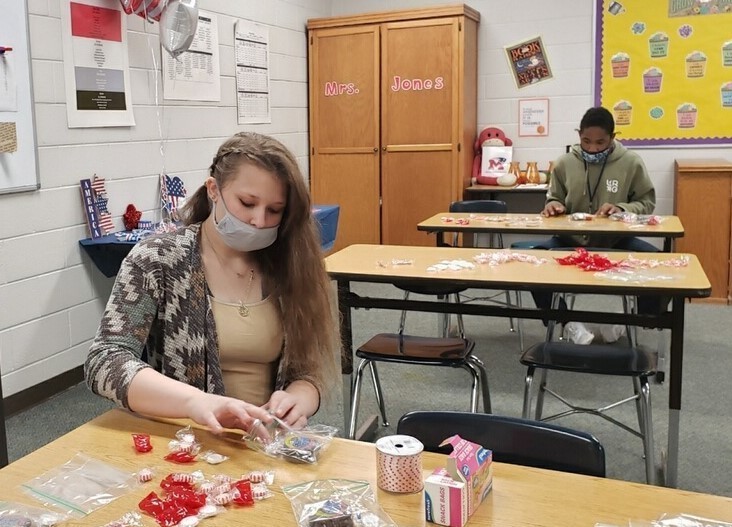 "They haven't been able to have many visitors since the pandemic, so this was particularly nice," said Jones. "The biggest benefit to us so far has been the smiling faces and the belief that we made someone's day."
In addition to the gifts, Dwayne Allen played music and sang, while students played bingo with the residents.
Jones had trouble deciding where to serve the community for this project. She considered St. Jude and LeBonheur in addition to Willowbend. Ultimately, the students picked Willowbend because "our students are alternative learning, and they tend to be misunderstood, much like senior citizens and elderly people," said Jones. "Our motto is 'when I smile, I feel good, when you smile, I feel better.'"
The Marion Preparatory Academy is the district's alternative learning environment that provides a non-traditional curriculum for students who need it.
"Our biggest thing is building up the self-esteem of our students," said Jones. "Sometimes, our circumstances are heavier than us. We want to empower our kids, and help them reach their true potential."
In the past, Marion Prep has donated canned goods to Marion United Methodist Church for Thanksgiving and Christmas. Marion Prep and Jones are planning on community service plans for the spring.