With Covid-19 cases on the rise across Arkansas, and with indoor mask-wearing again being recommended in more than half of the state's counties, the Marion School District is beginning the 2022- 23 school year with caution, with several measures in place to help protect the safety of students and staff.
For now, the district does not plan to reinstate its mask mandate. The district will, however, provide masks to any student who wants one. A Covid-19 vaccine/booster clinic for staff is also in the works.
"We're not through with Covid," said Dr. Glen Fenter, Marion superintendent. "I wish we were. But we do know the health crisis we are looking at today doesn't look the same as did a year ago, or two years ago. As such, we will be responding differently. We want the coming school year to be as normal as possible, but we are also committed to taking the action necessary to keep our students and staff safe."
At present, Crittenden County's Covid-19 risk level is rated as a "medium." As a "medium" risk county, indoor masking is not recommended, but citizens are urged to stay up-to-date with their Covid vaccines, and people in high-risk groups are urged to talk to their doctor about whether they should wear a mask or take other precautions.
However, 44 Arkansas counties – including Poinsett, Craighead, and Phillips, are rated as "high" risk areas, meaning masks are recommended indoors. If Crittenden County joins that list, Fenter said the district will strongly recommend that students and staff wear masks, but no mandate is planned.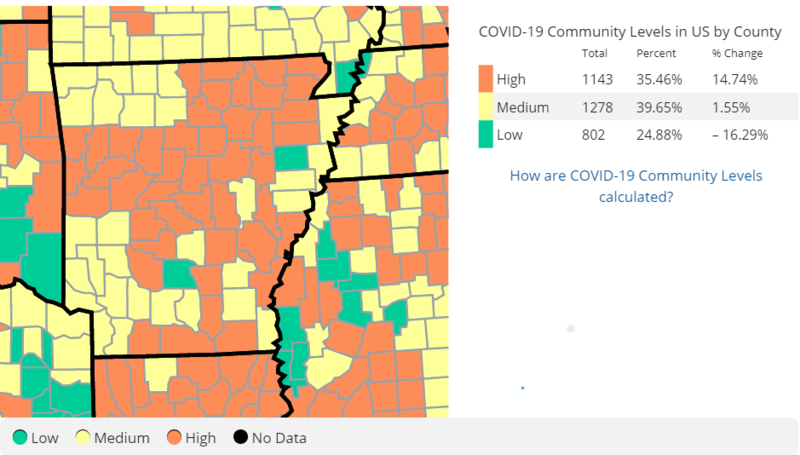 Kelly Fogleman, the district's health coordinator, said other safety measures will continue across the district, including the wide availability of hand sanitizer, water bottle filling stations, frequent surface cleaning, and other infection controls. She also noted that vaccination remains the leading public health strategy to limit Covid-19 infection and serious illnesses related to the virus.
Covid vaccines are now available for anyone age 6 months and older. More information about the safety and effectiveness of the Covid-19 vaccine can be found at the CDC's website.
"With the precautions we have in place, we are confident that we are poised for a great school year, that is as normal as possible," Fenter said. "Our teachers returned to campus this week, and you can feel the enthusiasm and optimism in every building you walk into across our district. I can't wait to see our students return next week, and to see everything they will accomplish in the months ahead."
The Marion School District is an innovative and growing district committed to helping every student find their unique path to success in school and in life. With more than 150 years of experience serving families in Crittenden County, the district offers a high school, a junior high, and three award-winning magnet schools. For enrollment information, including information on school choice, visit https://www.msd3.org/ or call 870-739-5100.